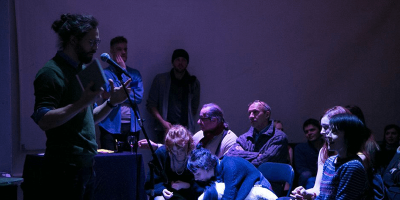 Psi vino is a quarterly journal for Czech and foreign poetry, criticism, and broader cultural reflection of poetry. Our goal is to introduce fresh ideas and perspectives, and to present poetry in the "expanded field". Psi vino is an unorthodox platform for emerging and non-canonical literary discourses. Through the medium of translation, we strive to confront Czech literary scene with the current trends from abroad (especially from the English speaking countries, Central, Eastern, and Southern Europe, and Scandinavia), and to give voice to the contemporary phenomena at the edges of literature (experimental literature, digital literature, uncreative writing, text art etc.). Any established state of affairs asks for critical attention.
Psi vino was founded in 1997 in Zlin, Czech Republic, by Jaroslav Kovanda; in 2006, it moved to Prague, as Petr Stengl became its editor-in-chief for the following five years. Psi vino has been a partner to and co-organizer of the annual Prague Microfestival, and it has maintained a long-term partnership with the Polish Institute in Prague, Bulgarian Cultural Institute in Prague, the NORLA foundation, Norwegian Embassy in Prague, the Tranzitdisplay gallery, literarnyklub.sk, and many others.
Staff: Olga Pek (editor-in-chief), Ondrej Buddeus, Jiří Feryna, Ondřej Hanus, Jana Sieberová, Alžběta Stančáková, Daniel Vadas (editors), Olga Stehlíková, Jonáš Thál, Ondřej Zajac, Dominik Želinský (associate editors), Barbora Karešová (subscription manager), Lucie Chlumská, Dominika Juríková (proofreaders), Štěpán Marko (graphic designer).
Feel free to contact us (in ENG, DE, POL, slovensky, NOR, DAN, SWE): psivino@gmail.com
PAST EVENTS:

Večírek Psího Vína 78 X 2 krsty (Thál X Buddeus) X Aid Kid
Psí víno + Stratocluster: Vánoční večírek
PSÍ VÍNO 77 ! Partitury pro čtenáře ¡ Free Balkan Quintet
Psí víno 76 - Pierre Joris: Gulf - Děti mezi reprákama